About Us
When you eat at Abby's Pizza & Fish n Chips, you get big value for your money because we offer a wide range of delicious pizza and fish n chips cuisine that you would surely love. Abby's Pizza & Fish n Chips is located at Queens St, Altona Meadows, in Victoria. Upon looking at our menu, you would be surprised at the long list of cuisines that we are offering. We don't just have pizza and fish n chips but we also offer Burgers, Steak Sandwich, Souvlakia, Schnitzels, Lamb Ribs and a lot more. You have to try our gourmet pizza selection which includes Tandoori Chicken, Satay Chicken, Spinach, La Greka and Moe Special. The Moe Special has a generous topping of tomato, cheese, spinach, anchovies, hot salami, chilli, garlic, olives and sundried tomato. If you are craving for our fish menu, we offer Flake, Snapper, Barramundi, Crab Stick, Scallop, King Prawn, Calamari Ring, Sea Shant, Mussels in Batter and many more. If you can't come to our place, you can always visit our website and order online.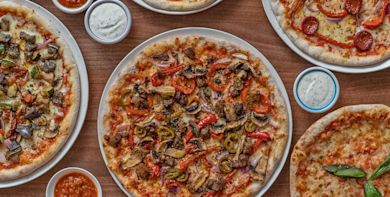 Reviews
Miss
"Beautiful fish & chips nice & hot when my order arrived will be ordering again. Keep up the great work."
Bee
"Very quick delivery service. Driver was very friendly, food was great as always is. Glad they listened to my request i added a side note, that i was allergic to garlic and they took note of that."
Justin
"First time and really enjoyed the food. Would eat from there again."
We deliver to
3018 Altona, 3018 Seaholme, 3026 Laverton North, 3027 Williams Landing, 3028 Altona Meadows, 3028 Laverton, 3028 Seabrook, 3030 Point Cook